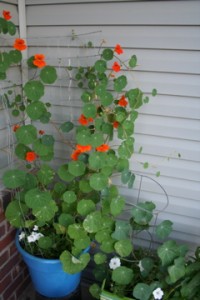 The 'Spitfire' nasturtiums I'm growing as part of the bloggers' Seed GROW project have really taken off in this container area near my front door. I love nasturtiums for their big showy foliage, but these also have vibrant orange blooms that stand out in my otherwise green, pink, and purple garden.
I planted the Spitfire nasturtiums in three different areas of my garden: the container area, which gets morning sun and is otherwise shady; a little spot near the garage, which gets morning sun but has tough clay soil; and near a pergola in back in a flower bed with rich, black soil.
In terms of bloom and height, the container nasturtiums are way ahead of the rest. They began climbing the simple wire trellis I put in the pot, with just a bit of encouragement from me. (I wound the plant tendrils around a few wires and tied one main stem loosely to the trellis.) The plant now covers much of the trellis and is spilling out of the pot. It  has been blooming for a couple of weeks. The orange flowers are bright enough to be seen from the street and are a great illustration of the power of orange.
"I'm growing Nasturtium "Spitfire" for the GROW project. Thanks, to Renee's Garden for the seeds."