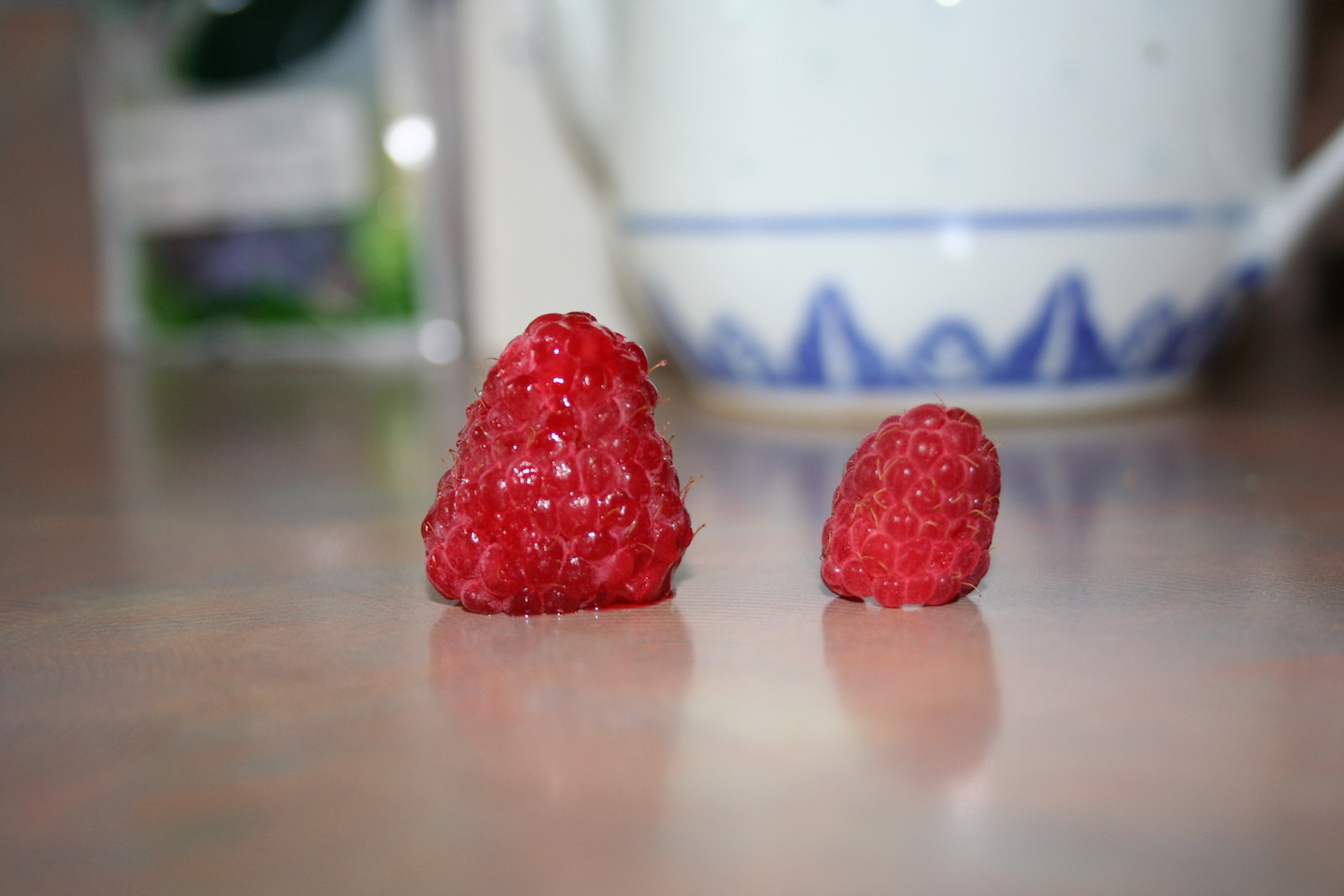 Well, it's pretty clear which raspberry is bigger, but which is better? I did an unintentional taste test yesterday, comparing some of my home-grown raspberries (the little guy) with raspberries from the supermarket.
I bought the big guys for a baking project my daughter was doing, but we did not need them. After a few days in the refrigerator, they were getting a little soft, so I decided to make a cobbler. While cleaning the berries for the cobbler, I popped one of the big ones into my mouth and found it noticeably ….blah. While it had nice texture and lots of visual appeal, it lacked the wonderful sweet-tart bite of home-grown berries. This is the essence of the argument behind the local food movement: We have traded taste for convenience and good looks in food, and sadly, many people do not notice the trade-off because they so rarely eat food at its real peak.
Fortunately, I had some of my own berries to jazz up the cobbler, which is based on a blueberry cobbler recipe from Jane Brody's Good Food Book, a cookbook I have used so much over the past 20 years that I'm on my third copy!
Raspberry Cobbler
Preheat oven to 400 degrees F. In a baking dish, melt 2 tablespoons butter. In a separate bowl, mix 2/3 cup flour, 1/2 cup sugar, 1-1/2 teaspoons baking powder and a pinch of salt. Add 2/3 cup skim milk to the dry ingredients and whisk them around with a fork until you get a smooth mixture. Pour the batter into the baking dish with melted butter in it. Sprinkle on top of the batter 2 cups of raspberries (or blueberries, or peaches, or slightly cooked apples, or…use your imagination.) Bake for 30 to 40 minutes.
The berries will fall to the bottom of the dish, creating a fruity, pudding thing while the batter will become a delicious biscuit crust on top. Next time you have an abundance of local fruit, enjoy this recipe.