I recently posted a video on Instagram of the damage deer had done to the hostas planted on the edge of my patio. We moved to this townhouse last fall, so this is my first year with these plants. Uff da! Did the deer do a number on them. So, I asked the people of Instagram which plants deer don't like in their gardens. Did they respond! More than 150 people suggested plants deer don't like—and while the commenters did not always agree with each other, they had a lot of suggestions that align with what I've heard horticulturist say.
My back patio area faces east, but because of a wooded area behind our development (hence, deer), it's pretty shaded. Some of the plants suggested require more than the four or so hours of sunlight I get, but they are definitely worth a try for those of you with more sun.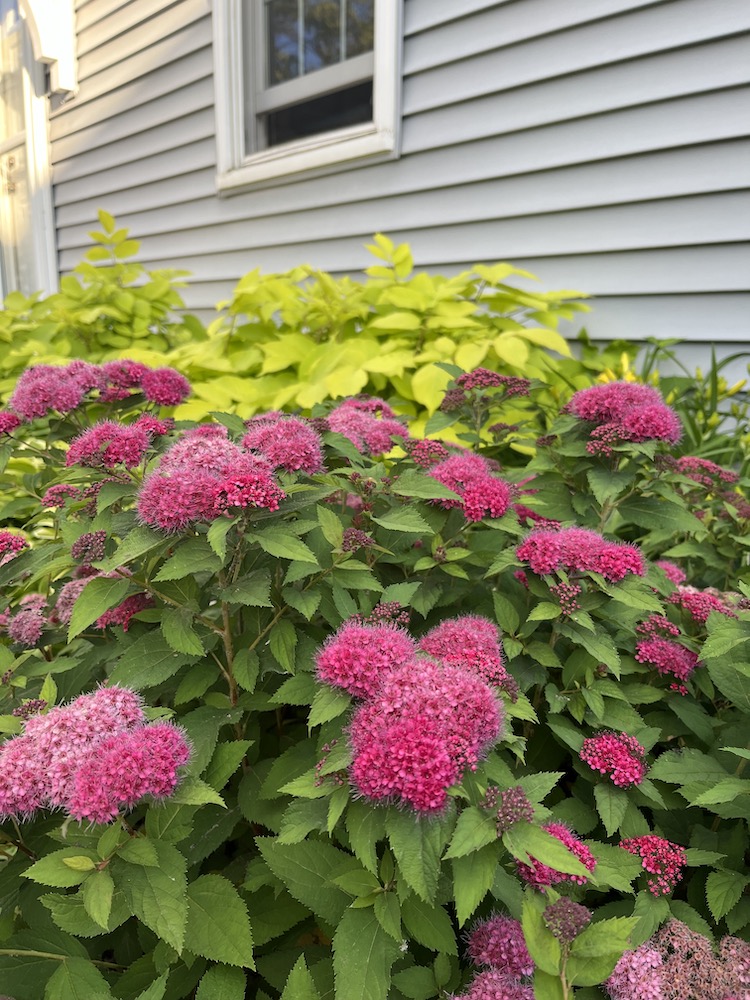 Most Recommended
Among the most often recommended plants are:
Spirea. I love spirea (above), and have planted them in less-than-perfect sun before. A small shrub, some varieties bloom more than once a year.
Allium. Ornamental allium (right) comes in a variety of types, but all of them have that distinctive onion smell that deer and other critters shy away from. Dee Nash from Red Dirt Ramblings recommended Millenium allium, which was Perennial Plant of the Year in 2018.
Astilbe. This was the most often recommended shade perennial. I have a few in the front planted by the prior owner that the deer have not touched, so this is an option. Astilbe come in lots of varieties and colors. They need consistently moist soil to grow well, so you will want to avoid dry sites and mulch well.
Bleeding heart (Dicentra). I love bleeding hearts for their sweet spring blooms and apparently the deer won't eat them. My concern in this garden is they bloom early in the summer and often fade away completely by fall. A good choice for someone with a larger garden than I have.
Hydrangea. There are so many different types of hydrangeas, I'm pretty sure I'd be able to find a new variety that is small enough for this space.
Peony. This Minnesota heritage plant is a great option for those who have more than six hours of sun a day. What I like about peonies is that after they bloom, they are a nice looking, plain green shrublike presence in the garden the rest of the season. Also, they're big enough to have an impact.
Hellebore. Sometimes called the Lenten rose, this plant is a nice groundcover with an unusual downward facing bloom in very early spring. They are perfect under trees in areas with deer pressure.
Coralbells (Heuchera). This might be the winning option. They come in a lot of different colors and sizes, have interesting foliage and a midsummer flower. My only beef for my patio edge is they are a bit short.
Lady's mantle. I think one person recommended this among their plants deer don't like, BUT my neighbor has a big row of lady's mantle around his patio. No deer damage there at all. It's a thought.
Even More Options
I was surprised at the large variety of suggestions people offered, which shows two things: Every property is different and what deer eat depends on what choices there are. The mantra that "deer will eat anything if they are hungry enough" is true. Here are some more suggestions, divided by the type of plant and its uses.
More shrubs: Other suggestions included boxwood, wiegela, potentilla, roses (some said yes, others no way) and ninebark.
Taller perennials: There were a ton of suggestions in the perennial area. Here are those that are more than 18 inches tall at maturity: Ferns, variegated Solomon's seal, columbine, Russian sage, lavender, salvia, ornamental grasses, bee balm, milkweed, coneflower, ligularia and catmint. That's Purrsian Blue catmint in the photo above—a beautiful perennial I had in my prior garden.
Shorter perennials. These range from groundcovers to short perennials, including lamium, yarrow, bergenia, wild geranium, brunnera, Jacob's ladder (Polemonium), lamb's ear, prairie dropseed and daylilies.
Not all the commenters agreed on which plants deer don't like—and more than a few suggested rocks, plastic plants and garden gnomes as they only things deer won't eat. Cornell University created a great list several years ago that ranked plants on how likely deer were to eat them. It's worth looking through if you live in an area with lots of deer pressure.
Many thanks to all the folks who commented on my video! I have a lot to think about as I decide what to plant in this vulnerable area.