I suspect there are a lot of folks like me out there, who have a loved one who won't be home for the holidays because of the pandemic. If that loved one happens to be a gardener, fear not! There are lots of gifts for gardeners that are easy to ship. I recorded a special episode of Grow it, Minnesota on this topic, but here's my list of easy to ship gifts for gardeners that you can pass on to Santa, or FedEx or whoever is in charge of your gifts this year.
Seeds and Plants
Let's start with the easiest and maybe the most loved—a gift certificate for seeds or plants. January is the prime time for seed ordering, so your gardener would love to get a gift certificate to their favorite seed company. I order most of my seeds from Seed Savers Exchange, Renee's Garden Seeds and Botanical Interests, but I've also ordered from Territorial, Johnny's Selected Seeds, and Burpee among others. There are lots of companies out there – and I think they're all good. You could also choose an independent nursery near where your loved one lives and get a gift certificate to use in the spring. Nothing's better than free money for more plants!
Garden Books
Books are very easy to ship with all the online book retailers out there. A few suggestions: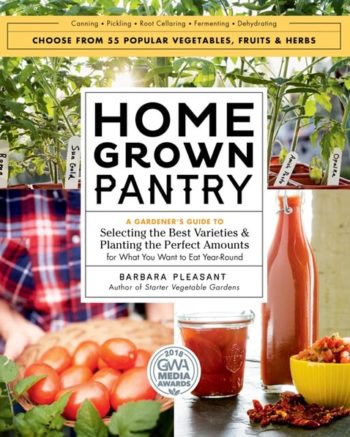 For the experienced gardener, I loved Uprooted by Paige Dickey. This is a garden memoir about her move from a garden she had tended for decades to a larger, but simpler garden. Dickey is a beautiful writer and gardeners who have been at it for awhile and know the sadness of leaving a beloved space and the excitement of learning about and nurturing a new one will identify with this book.
For vegetable gardeners, I really like Home Grown Pantry by Barbara Pleasant, a long time garden writer and speaker. She takes you through the year of what to grow, how to preserve it and even how to cook it. Pleasant lives in a warmer climate than we have, but she has information based on your first and last frost date and that's what you need. For intense northern vegetable gardeners, I really like John Whitman's Fresh from the Garden or almost anything by Niki Jabbour, a Canadian writer. For more general gardening advice, check out my book The Northern Gardener.
A Petite Pruner
Pruners are a great gift for gardeners, but most standard-sized pruners feel clunky when I use them—they also don't fit in my pocket, which is why I really like the Color Point™ compact hand pruner made by Dramm. It's small enough to be comfortable, can be used for most pruning and deadheading jobs and comes in really fun, bright colors. You'll never lose it in the garden. This is also small enough that it won't be difficult to ship.


Garden Clothing
Gardeners go through gloves by the dozens, so a pair (or 10) of nitrile fingered gloves is a great idea. These are lightweight, fit snug, allow you to pick things up easily and offer a bit of protection from dampness. (This is my second time recommending this gift!) Or, how about some mosquito protection: either a full-body suit or maybe a net to put over your hat for those late-evening garden chores.
A Garden Experience
Finally, a garden experience is a terrific and very easy to ship gift for gardeners. And, it can be the gift that keeps on giving. If your loved one lives near a public botanical garden, consider a membership as a gift. Not only will they be able to get inspiration by visiting that garden, but most public gardens have reciprocal memberships. For instance, I am a member at the Minnesota Landscape Arboretum – a place I can visit all winter and summer for free —but with that membership I also get free admission to other gardens. That means that in most winters (sadly, probably not in 2021), when my husband and I visit Florida to watch a few preseason baseball games, we also can visit the Marie Selby Botanical Garden in Sarasota.
So, when your loved one can travel again, not only can they visit you, they can visit a public garden along the way. I hope these ideas for gifts for gardeners are helpful, whether your gardener is near or far away.
If you are looking for more gifts for gardeners, check out this list at the Minnesota State Horticultural Society website.