When I interviewed author Susannah Shmurak for this week's episode of Grow it, Minnesota, about her book on growing and using elderberries, she mentioned that elderberries are one of the so-called superfoods. These are foods that offers extra nutrition and health benefits. (In the case of elderberries that extra benefit is its antioxidant and antiviral effects.)
It got me thinking about how many superfoods we can grow in our northern gardens. There is a reason gardening is so health-enhancing and what you grow is part of it! Here are five foods that are easy-to-grow, nutritious and delicious—I bet you grow most of them already.
Berries
Elderberries are mostly grown for their medicinal effects, such as reducing inflammation and boosting the immune system. But there are other berries that are superfoods and super easy to grow in a northern garden. My long-time favorite is raspberries, which are very easy to grow, prolific and incredibly easy to freeze for use throughout the winter. In some parts of Minnesota, the spotted wing drosophila has made growing raspberries more challenging, but if you have room and the SWD is not a problem in your area — put in a raspberry patch! Of course, blueberries are also extremely healthful—and delicious—though you may have to adjust the soil pH in Minnesota so it is acidic enough to grow blueberries. Or, try one of the new container blueberries, where you can custom-mix the soil.
Greens
Kale tops the list of many green superfoods, but it is not the only option. (I have a serious kale-resister in the house, so it's out of my garden.) Other great green options include spinach (easy to grow early or late in the season) and Swiss chard, which comes in many colors and lends itself to all kinds of cuisines. Collard greens are another seriously nutritious option for northern gardeners.
Tomatoes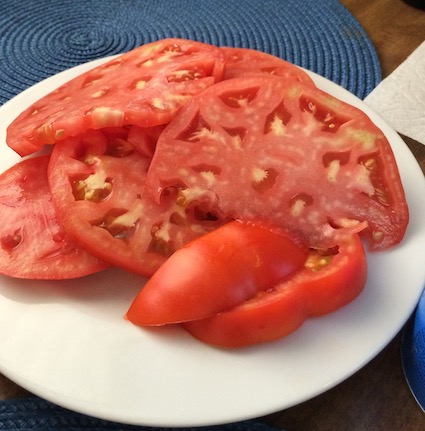 Thanks to their high levels of Vitamin C and lycopene, tomatoes are considered a superfood, too. They come in so many sizes and colors and flavor profiles that tomatoes are the favorite vegetable crop of home gardeners in the United States. I like to plant a mix of cherry tomatoes for quick, earlier harvests and lots of in-garden snacking, paste tomatoes to make a few batches of sauce and big slicers for BLTs in August. (Yes, I'm pretty sure bacon is not a superfood — but it's super good with a big slice of tomato on toast.)
Broccoli and its Buddies
The entire category of cruciferous vegetables (Brassicas) are considered superfoods because of their high levels of fiber, vitamins and phytochemicals, which may prevent some cancers. Broccoli, cabbage and radishes are the most commonly grown cruciferous vegetables in northern gardens, but Brussels sprouts, mustard greens, kohlrabi and cauliflower are also delicious and fairly easy to grow. Kohlrabi has the advantage of being a quick-growing vegetable that can be sown in the garden in April and harvested 45 to 60 days later. This summer, I had a chance to test a new cabbage that will be on the market in 2021, and it was perfect for slaw and not too large for those of us with smaller families.
Beans
Members of the legume family, which includes peas and beans, are also superfoods, due to their high levels of protein and fiber. While green beans are great, the best nutrition comes from growing beans for the dried bean inside. Black beans, kidney beans or one of the many specialty beans available from heirloom seed catalogs, homegrown beans are said to cook faster than the ones from the store—and of course, you know exactly how your beans were grown. Grow more protein!
How many superfoods are you growing in your garden?