Every experienced gardener has heard the truth about deer. First, if hungry enough, they will eat anything. Second, if you want them out of your garden, build an 8-foot fence. Garden designer Karen Chapman doesn't deny those facts, but in her new book, she encourages gardeners to be more creative, more clever, more understanding and more resilient in the face of deer pressure. And, best yet, she shows you how to do it in Deer-Resistant Design: Fence-Free Gardens that Thrive Despite the Deer (Timber Press, 2019).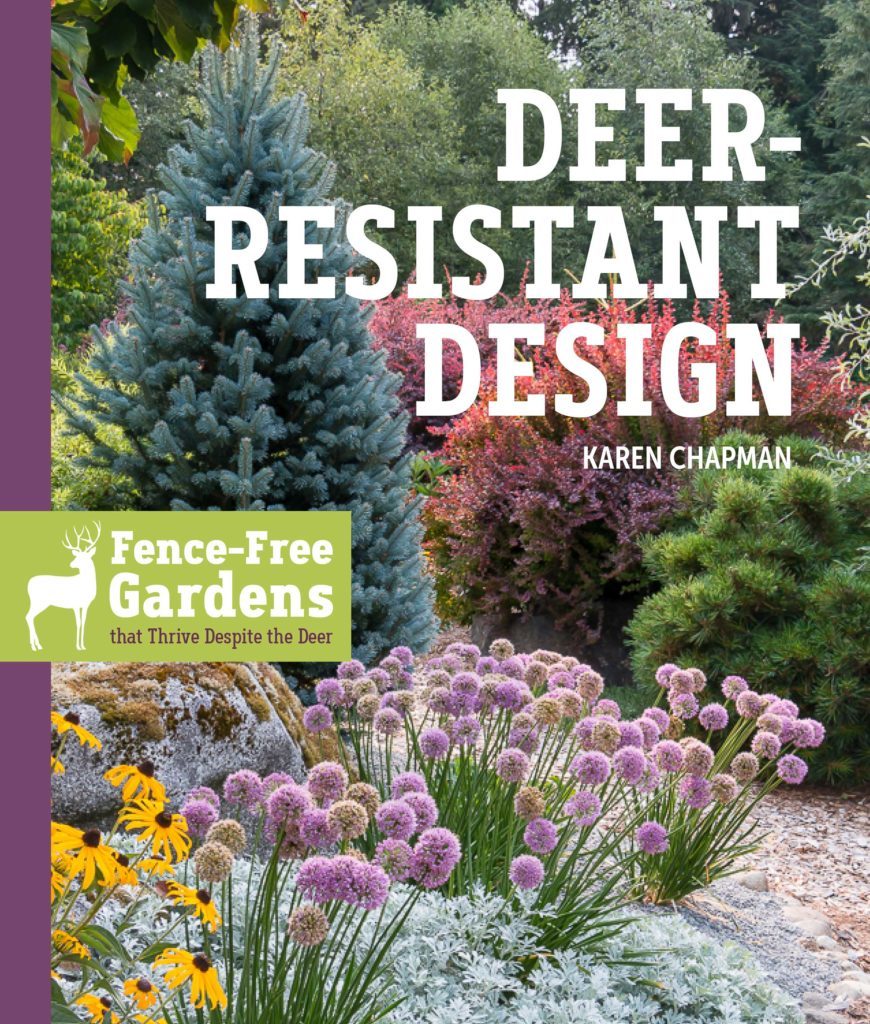 This is a great book for all the northern gardeners discouraged by deer. Chapman begins by acknowledging the realities of deer. They will indeed eat allegedly deer-resistant plants in some situations. A fence will keep them out, but fences are expensive and many gardeners have borrowed views they enjoy from neighboring properties or don't like the feeling of gardening inside a fortress. Chapman addresses general tips on gardening with deer—a lively dog may slow them down, begin spraying regimes early in the season to train deer to stay out of your garden, observe deer travel patterns and work around them when possible—before she dives into the heart of the book, profiles of 13 gardens and their owners and how they have dealt with deer.
These profiles show that even garden designers and horticulturists can feel defeated by deer sometimes. They also show the varied ways gardeners have adapted to deer pressure. One gardener strung wire between trees to create an almost invisible fence to discourage deer. A hosta collector in upstate New York plants in vast masses so small amounts of deer damage aren't noticeable and uses a homemade concoction of hot sauce, dish soap, eggs and garlic powder (among other things) to discourage browsing on prized plants. In Chapman's garden, she uses a double fence around her vegetable garden to keep deer out. The fences are less than 5-feet tall and attractive. The space between them is narrow enough that the deer won't dare jump them. Another gardener observed the deer trails through her property and avoided planting ornamental plants near the trails to keep from tempting the deer to munch. Hardscapes, trees, shrubs and design techniques can all help gardeners make peace with deer.
Plant lists for cold climates!
Each profile ends with a list of top 10 plants from that garden — and this is what really sold me on Chapman's book. While the farthest north garden she profiles is from USDA Zone 5—one zone south of the Twin Cities—the plant lists are full of plants that work in zones 4 and 3. There are plenty of plant recommendations for folks with cabins or homes in northern Minnesota and Wisconsin. Chapman gives each plant a letter-grade for how resistant it is to deer and describes its other characteristics, such as drought tolerance, shade or sun needs and what it brings to the garden design.
Chapman is known for her container designs and ends the book with a variety of deer-resistant container suggestions. Even if deer are not a problem, the containers look wonderful.
Book Giveaway
I like this book so much, I'm going to give a book away to a reader. Thanks to all who entered the giveaway — the winner, Terry, has been notified and will receive a book in the mail shortly. . Just sign up for my mostly monthly newsletter between now and Aug. 20. A winner will be chosen randomly and I'll send you the book. (North America only, please.)