With the mild winter and ample rain in April, 2012 is shaping up to be a great year for clematis. Several gardeners have told me their clematis are blooming much earlier than usual. My clematis is the kind that blooms both in spring and in late summer.
Called 'Bee's Jubilee', it climbs the pergola in the backyard. I bought this during a trip to Donahue's Nursery in Faribault in 2009, and true to the adage first year sleep, second year creep, third year leap — this plant started leaping last season and has continued to grow well. Clematis like slightly acid soil and I have this one planted near a Mugo pine. They also like to keep their roots a little moist and in the shade, which this plant gets, while still getting some sun on their leaves. This plant probably gets hours of sunlight, which seems to be adequate.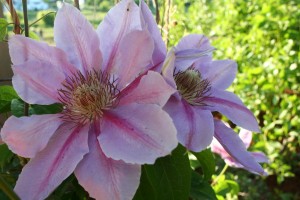 What I love about clematis is how generous they are with bloom. The lower half of my clematis is covered with blooms and many buds are ready to open on the upper half.  Photographing this plant is also exciting, especially in closeup. With the sun shining through the petals, the anthers on the bloom have a sculptural character that makes you want to focus closer and closer. (Makes me wish I had a macro lens.) It's one of my favorite plants to photograph. What are your most photogenic plants?