I've written before about the garden challenges of garage-forward homes—sometimes called "snout houses." While it's not usually possible to disguise that big 'ole garage sitting in front of your house, I think there are many opportunities to make garages less …. ugly.
That's why I fell hard for Pam Penick's garage garden during the recent Garden Bloggers Fling in Austin, Texas. Pam's ranch-style home was built in the 1970s and she has one garage advantage over many homeowners—while the garage is a prominent element on the front of her house, it's a sideways snout, meaning the garage doors face a courtyard/driveway rather than the street. Still, the garage is a big part of the front face of her house, and she's used plants, seating, artwork and a lot of creative energy to make it as beautiful and inviting as the rest of her landscape. Pam's yard has no grass, which makes sense given Texas' climate where gardeners go weeks without rain only to have a gully-washer one day. (We garden bloggers experienced one heck of a gullywasher during our visit to the Lady Bird Johnson Wildflower Center!)
What's so great about this garage—it's a garden!
The portion of the garage facing the street has windows, which makes it look like part of the house, and it is surrounded by plants.  A path runs along the back of the garage, leading to a gate and Pam's charming and oh-so comfortable backyard. She's planted several trees to provide shade and in a niche between the trees, she's placed a bench.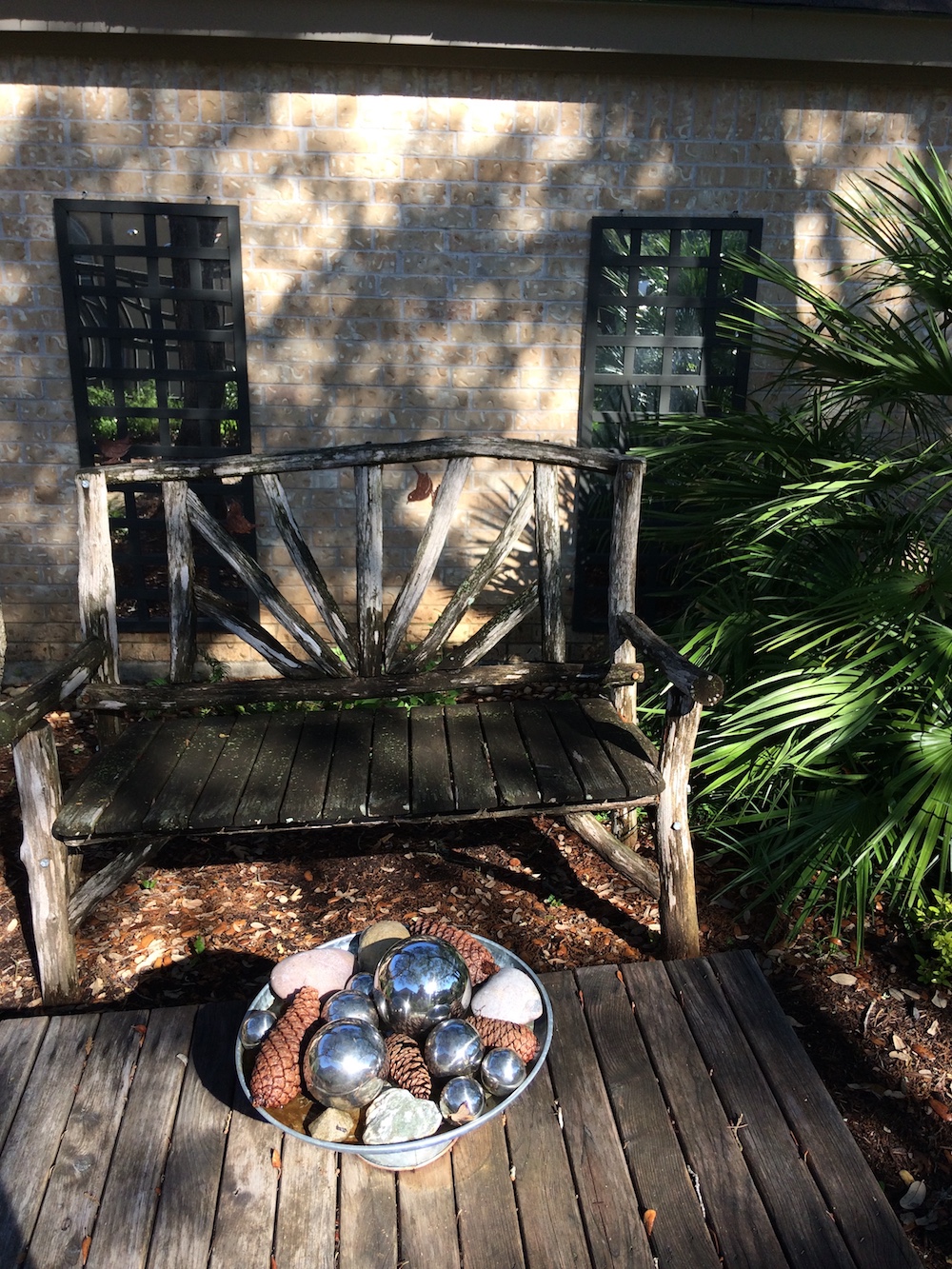 Behind the bench, you see two of four framed mirrors with matching panes that add light and decoration to the house. This gives the effect of a gallery and creates a ton of interest on what could have been a long, blank wall of stone. Throughout the garden, she has low, green plantings, softening the brick.
The side yard ends with this rustic gate, inviting visitors into the backyard.
On the driveway side of the garage, Pam added pots and a whimsical wall decoration.  The doors face a large planting area, giving visitors more sights to see than the garage. It's a masterful piece of distraction.
What are your favorite strategies for landscaping around your snout house?