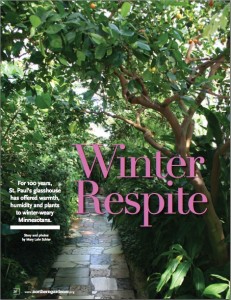 Readers of this blog know that I am a big fan of the Marjorie McNeely Conservatory at Como Park in St. Paul. During the coldest time of the year, I love to visit the conservatory to soak up the humidity and warmth as well as to admire the exotic plants.It's a bit like taking a trip to the tropics, without leaving town.
This year happens to be the 100th anniversary of the conservatory at Como Park and so we decided to mark that event with an article in Northern Gardener. I was thrilled to be able to write this piece and show some of my photos of the conservatory. You can read the article online by clicking the image above, or you can see it in the January/February 2015 issue of Northern Gardener.
What's your favorite way to get through the winter?