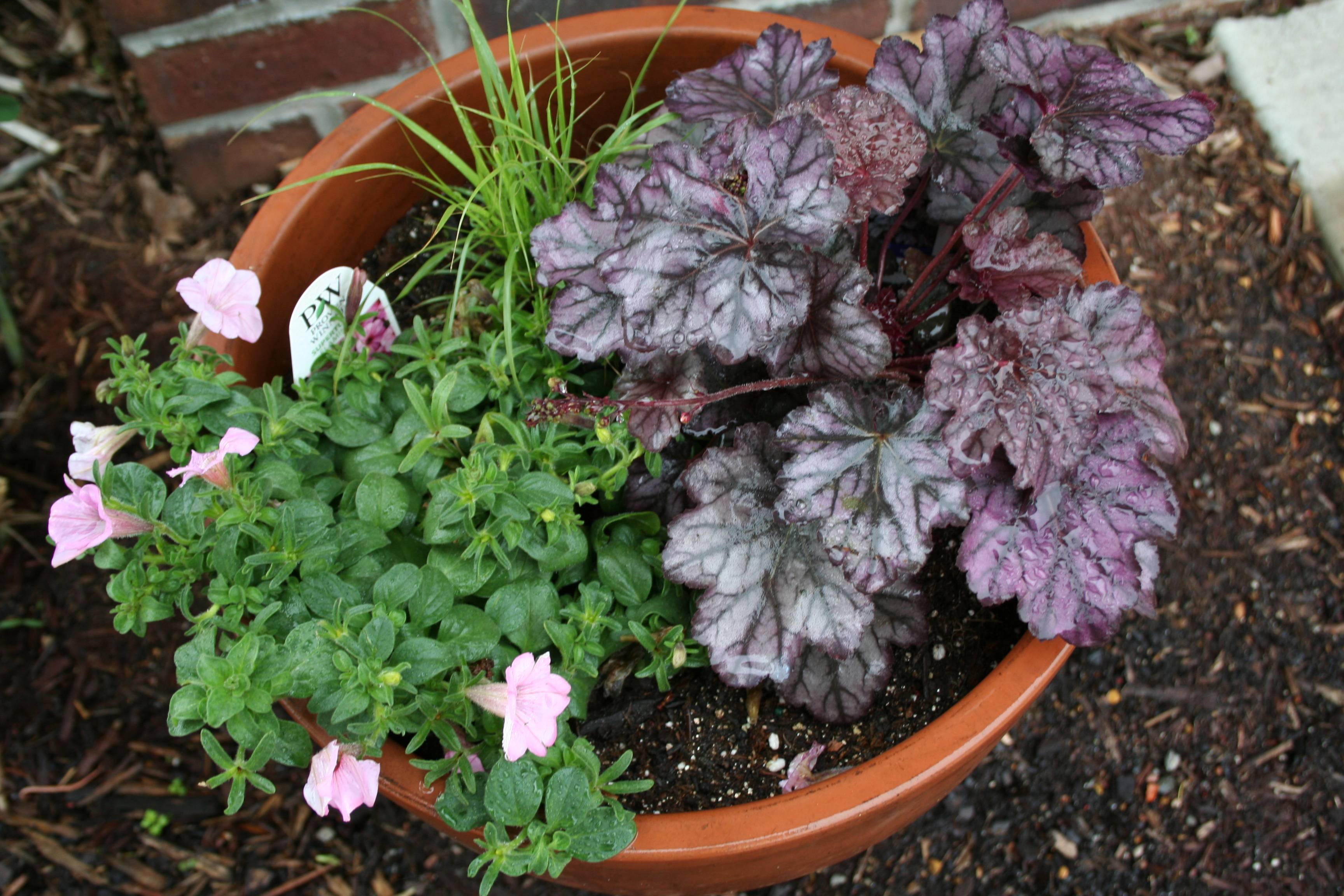 I'm one of those lucky garden writers who gets sent new plant introductions to try out about a year before the plants are introduced to the public. This is fun for me because they're free (thank you, Proven Winners and Sakata!) and because I get a chance to see what kinds of color trends and plant styles will be on the market next year.
For the plants, this is their final exam before graduation. They've been tested like crazy in greenhouses and growing ranges, but always under the care of horticulturists. Now, they must undergo testing by regular gardeners — avid gardeners, of course, but ones that have other jobs, families and the usual distractions from plant maintenance. Good luck to them all!
I got my Proven Winners plants first, so this post deals largely with them. The box included a mix of annuals and perennials, and I put most of them into containers. I especially like the container pictured above with this dark purple coral bells (Dolce® 'Blackberry Ice'), and a new pink mini-petunia (Supertunia® 'Flamingo'). I added a side-oats grama, a Minnesota native grass that will be part of my meadow planting. I love the textures of the three plants together and think the pink and purples complement each other.
The package also included some new begonias (Surefire™ 'Rose'), so I combined them with a red calibrachoa (Superbells® 'Pomegranate Punch') in a two matching lime green pots. I'm hoping these will do well in the sunny area in my front garden. I used the same combination, along with a dainty 'Diamond Frost' euphorbia in another container near the front entry.
Not all the new plant introductions went into containers, however. A diminutive sedum was planted in the front garden, where it will echo the shapes and colors of my other sedums. A couple of new bright purple verbena (Superbena® 'Violet Ice') were planted in my Mom's garden, where they will probably get better care than any of my plants. That lady definitely has a green thumb!
Finally, I have two plants I'm still figuring out where to put. One is a new goji berry—Sweet Lifeberry® (Lycium barbarum) which is said to grow 12 feet tall. I think I have a good spot in back for it, but any time you have a 12-footer, you've got to stop to think. The last one is a plant I've never heard of—Creme Fraiche™ deutzia. I like its variegated foliage and hope to find a nice spot where it can complement the plants around it. The Proven Winners website recommends it be planted near yellow-flowered perennials or annuals.
As the summer goes on, I'll report from time to time on how my trial plants are doing — including a post on my Sakata plants. Which are your favorite of the new plants introduced this year?