A Gardener's Reading, 25 of 30
By Cassandra Danz (Three Rivers Press, 1993)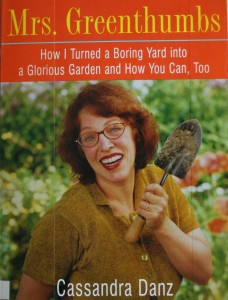 Mrs. Greenthumbs: How I Turned a Boring Yard into A Glorious Garden and How You Can, Too is a march through the gardening year with a hilarious, opinionated guide: Cassandra Danz. I was sorry to read elsewhere that Danz died in 2002, but she left behind two books full of stories and advice.
Mrs. Greenthumbs started out as a character in comedy sketches Danz performed, but Danz was a knowledgeable gardener and her advice is spot-on and delivered with humor and joy. In a chapter on Japanese beetles she notes that "to have a cultivated garden, you have to be prepared to kill something. You have to pull out weeds, cut down weed trees, and scare off, fence out, or murder woodchucks, rabbits, deer and destructive insects." The beetles, she says, "would make a lovely brooch," but the have to go. Many northern gardeners would agree.
In addition to rants on beetles, Mrs. Greenthumbs will tell you how to prune a tree or shrub, how to avoid double digging, and which seven perennials you must have in your garden (columbines, peonies, irises, hollyhocks, daylilies, phlox and asters). Like a good friend, she'll tell you the garden truths you do not want to hear (In my case, that you really need to have a fence or other form of enclosure to have a truly comfortable garden), and she'll keep you laughing all the way through.
Find it, read it.