A Gardener's Reading, 14 of 30
By Rosalind Creasy (Periplus Editions, 1999)
Several years ago, I heard Rosalind Creasy talk about her garden as part of the Minneapolis Institute of Arts' annual Arts in Bloom event.  Listening to her describe her methods of intensive vegetable gardening made me fall in love with the idea of a beautiful, edible French garden. It was spring, and I wished I were in Paris. I purchased this book as well as The Edible Italian Garden, also by Creasy, within days of hearing her talk.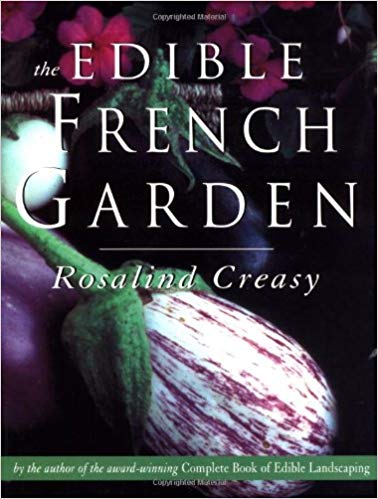 Alas, Minnesota is a long haul from France or even California, where Creasy lives, and after looking through this luscious book, I knew I would never be able to create gardens like hers. But, you've got to dream, right? And, that is to a large extent the value of garden books that are clearly not set in our zone—and by that, I mean both our USDA Hardiness Zone and our zone in terms of time and ability.
Several factors make Creasy's edible French garden distinctly French. First, she grows types of vegetables and varieties that are popular in France: Fennel, endive, celeriac, haricots vert, sorrel, mache, and a host of other greens and lettuces. Like French home gardeners, her methods are intensive and the emphasis is on producing vegetables to eat as soon as they are picked, rather than those that can be preserved for winter eating. Edible French gardens tend to be walled (a practical as well as aesthetic decision) and formal in design. Plants are placed close to each other. Lettuces are harvested in the cut-and-come-again method, and as vegetables reach maturity and are harvested, they are often replaced with a new crop. Lush with purples and deep greens and filled with edible flowers, these French vegetable gardens are beautiful.
So is Creasy's book, and she makes it even more of a delight by offering recipes for all the vegetables you grow. French cooks have a way with vegetables, enhancing their flavors with carefully paired herbs, such as braised lettuce with lemon thyme, carrots with chervil butter or roasted potatoes with rosemary and thyme. I'm getting hungry as I type the names of the dishes.
For gardeners with small spaces and big appetites, this book may be a seductive first course in edible gardening.