Like a lot of Midwesterners, I enjoy a winter escape to the west coast of Florida. I'm not sure why this area is so popular with people from Minnesota, Wisconsin, Illinois, and Iowa, but those are the out-of-state license plates you are likely to see in Naples and Fort Myers.
One of the places well worth a visit in Naples is the Naples Botanical Garden, a recently remodeled 170-acre facility located just south of Olde Naples. I visited the garden in 2008 during one of my regular vacations to see my parents in south Florida, but the garden has been completely revamped since then. In 2009, the new facility opened and in fall of 2010, additional gardens were added. It is a really lovely place for a half-day or so walk through several natural habitats. It includes 11 themed gardens, ranging from an Asian garden to a Brazilian garden, as well as special features such as a birding tower and a wetlands preserve.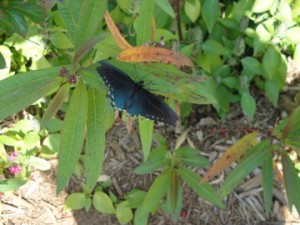 The emphasis, of course, is on plants from south Florida and other sub-tropical regions, but the gardens also capture the culture of this area with structures, ponds, and fountains. The Children's Garden is especially charming. On the day I visited, several toddlers were romping in a fountain, while older children climbed a tree house near the garden. Kids of all ages enjoy the butterfly house (a carryover from the original garden), which is filled with Monarchs, Black Swallowtails, and Cloudless Sulphur butterflies. The butterfly garden also includes many of the plants that butterflies and caterpillars love. While visiting, we witnessed the unfortunate end of one of the butterflies at the hands (tongue?) of a lizard who had sneaked into the house. A striking encounter with Nature with a capital N.
The Florida garden was also pretty and educational, offering suggestions for how to arrange and plant containers on a lanai or porch. While some of the plant choices were strictly Florida, others seemed appropriate for any home garden. Not surprisingly, the garden has a large collection of palms, bromelliad, bougainvillea, palmettos, and water lilies and papyrus in the water garden, giving it an exotic (to me) and tropical feel.
While we were not able to visit it, the garden features an area called The Preserve, a 90-acre plant and animal sanctuary that supports seven different ecosystems. According to the garden's excellent website, more than 300 species of native plants, some endangered, have been found in the area. A colony of gopher turtles lives there and the area is a resting spot for many migratory birds. The garden includes a birding tower, too, for bird enthusiasts. Those wanting a peak at what Florida was like before development should definitely stop at The Preserve.
I also should mention how helpful we found the volunteer docents in the garden. One in particular was happy to talk about plant choices for containers, growing vegetables in south Florida and even climbed into a planting bed to identify an unfamiliar plant for me.
There's a pleasant gift shop and a food cart out in the garden. The garden also offers motorized scooters to any visitors with mobility issues.
This is an older post. The garden has changed and improved significantly. My new favorite Florida garden is the Marie Selby Botanical Garden in Sarasota.