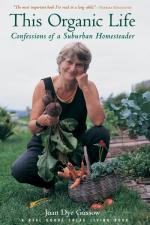 Food and environmental gurus tell us that the question isn't always whether a food is organic, but whether it is local. There is comfort in knowing where your food comes from, and maybe even the people who grew it. As anyone who frequents farmers' markets knows, local food tastes fantastic, too. But growing all of your own food seems a nearly impossible proposition—especially in our climate. (Yes, pioneers did it, but they had to!)
So Joan Dye Gussow's story of how she came to grow all of her own vegetables and most of her other produce is compelling. Gussow is a nutritionist, who decided to take her own advice and eat locally and seasonally. The book is mostly a memoir about her experiences establishing a garden to feed herself and her husband on a small property near the Hudson River outside of New York City. She goes off on occasional tangents, however, to interesting subjects like the politics of food and struggling with the aging and eventual death of her husband as well as not so interesting ones like her efforts to save a rotting, 140-year-old house that came with the property and clearly needed to be leveled.
Most of the time, Gussow stays in the garden, describing her system for setting up raised beds, doing succession planting to extend the garden season, growing a variety of fruits, creating compost to feed her soil, and battling critters. She also talks honestly about the joys—and deprivations—of eating seasonally. She offers recipes for dealing with over-abundance and thoughts on the values behind going without certain foods for much of the year. When Gussow enjoys her first peach after nearly a year without one, the experience borders on the spiritual.
Perhaps that is the message of this book—appreciate the joys of food and how hard, and important, growing food is. Published in 2001 by Chelsea Green Press, This Organic Life is still in print. Gussow's newest book is on aging and gardening. I haven't read it yet, but will check it out this winter.
This review originally was printed in the newsletter of the Friends of the Northfield Public Library.