I haven't done any kind of comprehensive review of vegetable gardening books, but I read a lot and I love books on cooking and gardening the most. While there is a lot of gardening information on the internet, not all of it is trustworthy, besides sometimes a book just feels right in your hands.
If I were just starting a vegetable garden, there are two types of books I'd want.
Your Basic Guide
Beginners have basic questions and need a guide book that is like a friendly, knowledgeable neighbor.
A few months ago, I came across the Moosewood Restaurant Kitchen Garden, revised edition (10 Speed Press, 2005, $19.95) and have been really impressed by it. In addition to listing the vegetables you might want to grow, when to start them, how to maintain them, and how and when to harvest them, author David Hirsch offers recipes and a dandy 30-page section in the back with basic information on placing your garden, soil, compost, mulching, and other techniques gardeners need. The book has enough information about everything but not so much you are overwhelmed.
Other good overview books would include The New Victory Garden, a sort of 1980s vegetable classic; Square Foot Gardening, by Mel Bartholomew (great for small-space gardeners), or if you are interested in a specific type of garden, any of Rosalind Creasy's books. (Be warned, though, she lives in California and doesn't exactly get the concept of dead winter for six months.)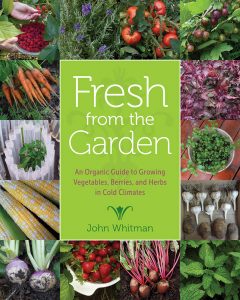 Update from 2018: If you live in the North, check out John Whitman's new vegetable book, Fresh from the Garden: An Organic Guide to Growing Vegetables, Herbs and Berries in Cold Climates (University of Minnesota Press, 2017). This is a comprehensive guide to growing food in cold climates and would provide all the information a beginning gardener needs. The book won a Gold Medal in the 2017 GWA: Association for Garden Communicators awards. The truth is, my book (The Northern Gardener, from Apples to Zinnias) was nominated in the same category. I did not mind losing to John's great achievement.
A When-to-Do-What Book
When should you plant tomatoes in Minnesota? (Later than you think!) When should cover your crops in the fall and how do you "put the garden to bed?" A book that tells you when to do what is useful, especially for new gardeners.
Melinda Myers, Wisconsin's gardening guru, has a great book for this called Month-by-Month Gardening in Minnesota. It's divided by months, of course, but also by what kind of gardening you're doing. So, you can check in March and find out that now is a good time to start seeds. She also tells you how.  Another calendar book I like is The Time-Saving Gardener, by Carolyn Hutchinson. It not only tells you when to do things, but Hutchinson has lots of step-by-step diagrams to follow. She also divides tasks by season rather than month, which makes the book more applicable in northern climates.
In addition to a couple of books, I'd check out magazines — ahem, Northern Gardener — and the web for information.
Experienced gardeners, help me out. What books would you recommend to a new vegetable gardener?