Pictured above is an anise hyssop that I planted last summer for a little color with absolutely no hopes that it would survive the winter.  Yet, come April, it was sprouting its pretty chartreuse leaves and getting ready for another season of bloom.
The plant is 'Golden Jubilee' anise hyssop (Agastache foeniculum 'Golden Jubilee'), a 2003 All-American Selections winner that has pretty purple bottlebrush flowers and is very attractive to bees, butterflies and hummingbirds. It's listed as being hardy to USDA Zone 6 on the tag it came with, though I've found several other sources that says it is zone 5 hardy. (For reference, I live in zone 4, which covers the southern two-thirds or so of Minnesota.) Even if it was zone 5, I would not have expected it to survive the winter of 2016-17 because of the lack of snow cover. We did have a warm winter overall, but the temperature sunk to below -20 F in December, which should have been cold enough to ice even a zone 5 plant.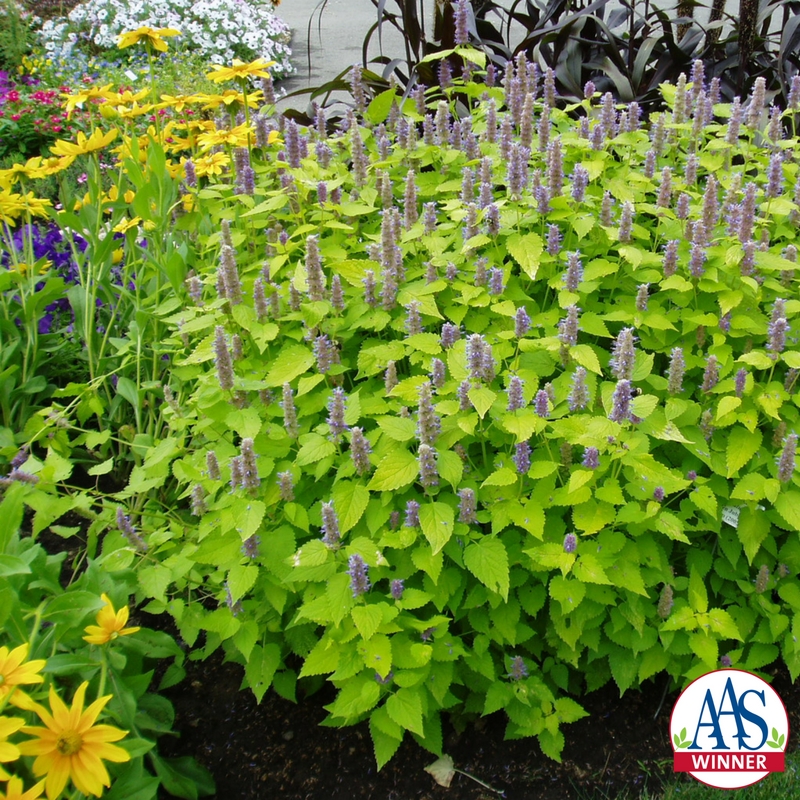 But like all politics, all weather—and all gardening—is local. In my garden, this plant faces south. I live in the urban heat island of St. Paul. The plant lies within 5 feet of the foundation of my house, which may emanate some heat. The extremely cold days in December came right after a snow storm, so the plant's roots had some cover during the worst of the winter. Clearly, the local conditions were warm enough to get it through the winter.
It may also be that the zone 6 rating given the plant by this grower is conservative. That's one thing to keep in mind when choosing plants—zone ratings are as much art as science and some companies are conservative in their ratings while others are more optimistic. Your local conditions may be warmer or cooler than the averages for your zone, too. Choose plants not exclusively by the numbers but by the local conditions.  I bought the anise hyssop plants later in the summer. They were on sale and I expected they would be annuals. This brings to mind a good rule for gardeners who want to "push their zone." Never choose a plant you can't afford to lose.
Whether it was luck, a warm winter or a too-conservative rating, I'm happy to have this cheerful plant back for another year.