Are you looking for a gift idea for your valentine this week? If he or she is a gardener or someone who likes flowers, let me suggest this pre-planted bulb garden the folks at Bachman's are offering. Called Watch 'em Grow, the pots come in 8 or 10 inch sizes and are planted with an assortment of spring bulbs: tulips, daffodils, hyacinths and muscari.
When they arrive, the bulbs are just starting to grow. Give them a little water and set them in a bright spot, and in a week or so, your valentine will have blooms. Mine arrived January 26 and by February 4, the cutest tiny daffodils I've ever seen on it were in bloom. Today, the hyacinths are also blooming (one light pink, one dark purple) and the tulips are just starting to break open. I'm guessing I will have blooms for about 10 more days.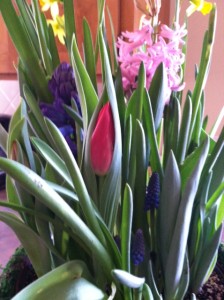 Fresh flowers are a wonderful gift, but I like something that you can watch grow and enjoy for several weeks. Other suggestions for a Valentine's Day gift for the gardener in your life?
Seeds! How about seeds for a butterfly garden? Or a selection of tomato seeds with unusual names or flavors?
A tree. A few nurseries are open now and you can get a gift certificate for a tree.
A book about gardening or cooking. Some of my recent favorites include The Layered Garden, Groundbreaking Food Gardens, and for planning how to cook up all the good vegetables your gardener will grown next year, Amy Thielen's The New Midwestern Table. (Check out the March/April issue of Northern Gardener for an article on the garden Amy and her husband, Aaron Spangler, tend in northern Minnesota.)
A CSA share. OK, this is a big one. But, if your gardener does not grow a lot of food, but loves fresh food (and who doesn't?) how about a share or partial share in a local community supported agriculture farm? You can find a list of regional CSAs here.
Fresh flowers. A bouquet is lovely and much better for the figure than a box of chocolates.
Enjoy the holiday!
Disclosure: I was sent the Watch 'em Grow basket free of charge for review purposes. My policy is to review products only if I like them. If I don't like them, I will not mention them on this blog or in social media.