It's been a month since I've written on this blog, and while I don't usually explain my absences (not even my mother is that eager for my next post), this is one worth elaboration.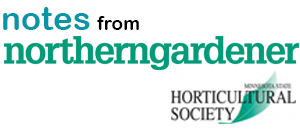 Most importantly, I've been working on a new blog for Northern Gardener magazine. While I edit Northern Gardener, this blog has always been my own thing. Since July, I've been working with the Minnesota State Horticultural Society on its new blog, Notes from Northern Gardener. This has been an exciting effort. In November, we ran a series on Great Plants for Northern Gardens, which inspired some conversation about which plants are winners and which are sinners for northern gardens. Then, in January, publisher Tom McKusick and I teamed up to write a month's worth of posts about vegetable gardening. Tom is a bonafide tomato expert and has two large gardens that he tends. The series, which just ended, got a terrific response from readers on Facebook, Twitter and in real life. With all the cold, wet, just plain nasty weather we have had this month, many people are ready to get out in the garden.
We're also at work on the March/April issue of Northern Gardener, and it will be out before the end of February. In the meantime, if you have not picked up our January/February issue, it's on the newsstands with the bright photo of an African violet on the cover. There are lots of good articles in this issue on everything from rock gardening to must-have tools to a profile of a beautiful "up North" garden in Wisconsin. If you followed the earlier link, you may have noticed that it went to the new digital edition of Northern Gardener. From now through June, this digital edition will be open to the public. So, if you have been thinking about subscribing (or better yet, joining MSHS), you can get a preview of the magazine for free. Check it out.
As I write this, the thermometer is hovering around zero — up from about 15 below zero this morning when I walked our poor dog. (It was a very short walk.) But we have noticeably more daylight than in early January and I'm about to plant some winter-sowing containers and the seeds I've ordered arrive in the mail nearly every day. As my mother-in-law used to say, "if you make it through January, you've got winter licked." Here's hoping you've got winter licked, too, and are looking forward to the garden season ahead.