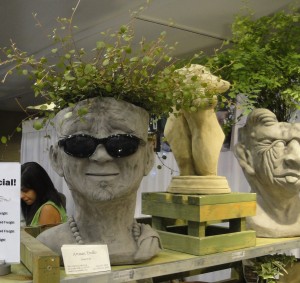 Yes, it's only August, but for owners and buyers from independent garden centers, it's time to think about spring. Tuesday I had a chance to visit the Independent Garden Centers Show in Chicago, where more than 1,000 vendors brought what they think will be hot-sellers at garden centers in 2013.
There were lots of plants and tools, of course, but many of the items fell into the arena of garden decor — pots, fountains, artwork. Here's my non-scientific, once-around-the-vendor-floor assessment of what you will be seeing in garden centers in 2013.
Bright colors. Tangerine is the color of the year for 2012, and that bright, cheerful hue, along with bright blue, cherry red and sunny yellow were everywhere in containers, watering cans and flower pots.
Vertical gardening. I've seen a few large vertical gardening installations over the past couple of years, but mostly in public spaces, because of the relatively high cost of putting them in. But vendors are figuring out how to make these more affordable for garden centers and their customers. There were several companies selling the interior liners for the grow boxes and a number showing ways to use them. For the home gardener, this little window filled with oxyalis was cute.
Portable water gardens. I've been looking for one of these for my garden, and it looks like next spring, I'll have no trouble finding it! Large water features are fabulous and add so much sound and texture to a garden, but for many gardeners they are like Sally in the movie When Harry Met Sally: high maintenance.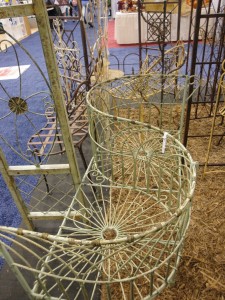 More than plants. Garden centers have figured out that younger consumers especially want ideas and experiences when they visit garden centers — not just rows of plants. The folks at Monrovia had a fun display of ways to use a few simple groundcovers and baskets to create fairy gardens, one vendor was giving out sampels of pies that centers could bake up and sell whole or by the piece to their customers, garden art and furniture was everywhere especially things with an antique look. I loved this little gossip bench for the garden in an aged looking metal.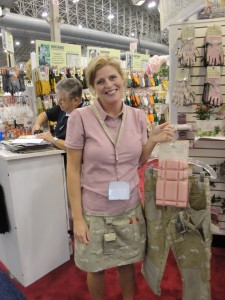 Another favorite were these garden work clothes by GardenGirl USA, created by Swedish designer (and gardener) Petra Maison. I met Petra, seen wearing one of her outfits in the photo, and loved the cute designs, soft colors and obvious functionality. The clothes are made of extra heavy denim (you know how much work they will get) and are  fitted out with pockets perfect for gardeners — one for your pruner, one for the cell phone and a couple of other slots for tools. I'm thrilled that they carry skorts — a look that I really like, but you can't find in stores as much in the past.
Look for these — and lots of other fun stuff — in independent garden centers next year.