After three nights in the 20s, it looks like we are out of the chilly woods for at least a week or so. Much needed rain is in the forecast and the low temperatures are predicted to remain in the high 30s and low 40s.
It seemed a good time to assess whatever damage occurred. First the good news, most of the blossoms on my cherry tree appear (at least for now) to have survived. And, the really good news is several of these little pollinators were hard at work on the blossoms that were open.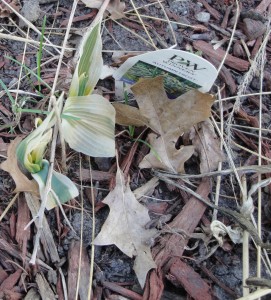 Most of the perennials that have come up seemed to have survived the frost with few problems. Two exceptions: This newly planted 'Autumn Frost' hosta really should have been covered up better (my bad!) and the leaves are wilted over completely. The plant was only a couple of inches out of the ground, so I'm hoping it may come up again. Also, a hearty looking (as opposed to really hardy) lupine also is slumped over.
What kind of damage did you experience with the hard freezes?