Yesterday, I joined four other hardy University of Minnesota Extension Master Gardeners from Rice County to prepare for the Rice County Fair, which opened last night. It was hot! But we got our booth put together, and I'll be there twice this next week, attempting to answer questions and showing people the demonstration gardens.
The master gardeners have three lovely gardens at the fairgrounds in Faribault. One is a sun garden, one a shade garden, and one a butterfly garden. Tours will be conducted daily at 2:15 p.m. Walking through these gardens will give fair visitors a sense of which plants grow well in different environments.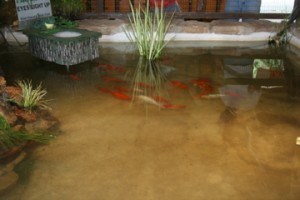 The master gardener booth includes information about Emerald ash borer and other garden pests. Near our booth is an indoor pond, which is normally filled and stocked with fish by the state Department of Natural Resources. Due to the government shutdown, the DNR is absent from the fair. But, AquaEden, a local company stepped in to fill the pool and stock it with Koi. Be sure to stop by and check it all out.
See you at the fair!