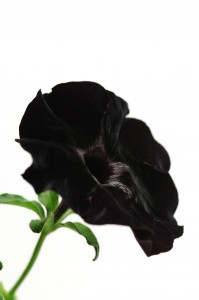 My first garden column of the year appears in the St. Cloud Times today. I've been doing a garden column during the season for the Times for two years and really enjoy it. Back at the beginning of my career — we even used typewriters when I started! — I was a reporter at the Times, so it's always fun to re-connect.
This week's column is on color trends in the garden. Like clothing and home decor, gardens are subject to styles and trends. This year, the trend toward vegetable gardening continues, especially as gas and food prices are rising. In ornamental gardening, the colors coral or orange and black are everywhere.
One of the hottest plants of the summer is the black petunia above, called 'Black Velvet'. The color is genuinely black, as opposed to a deep purple. I'll be curious to see how it looks in the garden since black absorbs color rather than reflecting it. It's often paired with white delicate white plants in photos I've seen of it, which might be a way to keep it bright.
For more about color trends and some specific plants to consider, check out the column.