This past summer, I had a chance to try out several new-to-the-market plants. A few grew really well, looked great most of the year, and just generally behaved like champs. Others…well, maybe it was me. (That's always a possibility.)
Let's start with the champs.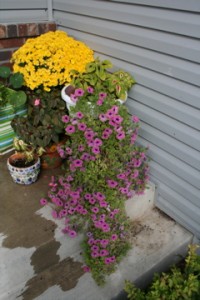 One of the most-hyped plants of this past year was a new petunia from Proven Winners called Supertunia® Pretty Much Picasso®. The bloom of the plant is a deep pink color with a lime green edge to it. Up close, the variegation stands out, giving the plant a bright, almost tropical look. The problem is that the coloring fades when you look at the plant from any distance. If you are more than four feet away, it's just a nice, purplish pink petunia. However,  as our endless fall continued from September, through October into November, I was more and more impressed with Pretty Much Picasso. It bloomed and grew and bloomed and grew. By the time I emptied its pot after Halloween, it was like Rapunzel, with its long blooms hanging almost four feet from the top of the pot.
Another new introduction that grew very well for me was this verbena, Superbena® Royal Chambray. I put it in the ground in my front bed. The flowers have a sweet color and shape, but I also liked the furry foliage on the plant. It's not a huge plant, but fills in spaces in the garden nicely and bloomed well into the fall. It probably would have done even better in a pot.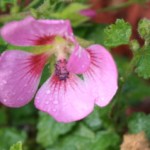 I also was pleasantly surprised by this bacopa  (Sutera Snowstorm Pink™). It grew very well in a part-shade location in the back garden, where I planted it as an edger. It was frequently covered with dainty pink blooms, and like the Pretty Much Picasso, just kept on blooming right through October. When I attended the Garden Bloggers Meetup in Buffalo, N.Y., this summer, this plant was much discussed. Everyone seemed to like it, but many of us noticed it's tendency to bloom, bloom, bloom, then stop for awhile, then bloom, bloom, bloom again.
Several other trial plants did well, including this Bidens. The one plant I was most disappointed by, however, was the much touted Snow Princess™ alyssum. I saw several displays of this new alyssum before the growing season started — and each one was huge, fluffy, and amazing. I decided to put it in a pot on its own so it could really stand out. No such luck; it languished most of the summer–getting leggy and sparse and really not that fluffy almost no matter how much I watered or fertilized. Again, this could be me or the fact that my porch pot area is only part sun — the display I saw at the Olbrich Botanical Garden in Madison, Wis., still looked great in early October.
Which annuals were champs in your garden this year?