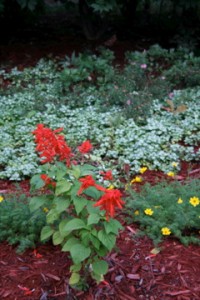 September is often one of the nicer months in my garden. The fall-bloomers kick in and after the heat of August, it's nice to get a break. (Although we seem to have gone from August to October in record time this year.) Still, I'm hopeful that we will get an Indian summer yet.
Meanwhile, what's blooming? The Yvonne's Giant Salvia I grew from seeds saved last year is blooming in several spots around the garden and attracts hummingbirds every day, though I have yet to capture one on film (pixels?). The bright red-orange of the blooms is eye-catching to humans and well as hummingbirds and I think it makes a vibrant access plant. My salvia does not live up the name "giant;" the tallest plant I have is about 3 fee tall, but a start I gave my mother is over 4 feet tall in her front yard. It's in a sunny spot, and she may be more diligent than I am about fertilizing. One other thing I noticed this year: Though the plant has gotten more moisture than last year and generally everything in the garden is ahead of last year, these bloomed about two weeks later than in 2009.
I also really like the look of the meadow area at the edge of our yard. The dominant flowers now are (I think) a species of Helianthus — either H. tuberosa or H. hirstus. I'm not sure which. I planted a few plants last year, and bang, it really took off this year. I like the varying heights of the plants, the way they sway in the wind, and the bright flowers.
Lastly, I've been pleased with how our new front yard garden has turned out. The rocks do exactly what I hoped they would: They give use a sense of an entry closer to the door and they give me something to walk on as I move around to the side of the house where the hose is. We bought an inexpensive iron table, which I've sat at a few times to enjoy the view. The plantings have a few flowers during the season, but it's the texture and contrast of the foliage in the blue false indigo (Baptisia), the grasses (Karl Foerster feather reed grass), the sedum, and the purple weigela.