The wind was up and the temperatures were a little chilly, but I had a great time volunteering at the MSHS booth in the Horticulture Building at the Minnesota State Fair. The weather brought many of the fairgoers inside, so we had lots of visitors at the booth and the MSHS educational area. (We also did a brisk business in sweatshirts as many fairgoers needed an extra layer.)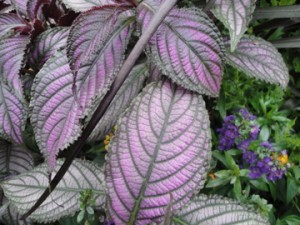 During a break, I toured the gardens that MSHS has adopted at the fair. The space includes a water garden and a variety of fall bloomers. I really liked the 'Zahara' White Zinnias that are massed near a fence along the garden's edge, and this purple Persian Shield plant that fills out a planter near the garden.
If you get to the fair this weekend, be sure to stop by the Horticulture Building to visit MSHS.