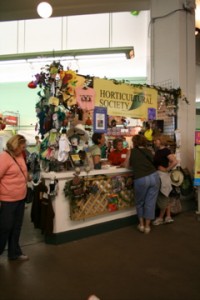 I'll be making my annual trek to the Minnesota State Fair to volunteer at the Minnesota State Horticultural Society booth next week, but I'm already figuring out a plan for visiting the fair. The state fair offers many temptations for gardeners — and not just the kind that are deep fried.
Of course, the Horticulture Building, at the corner of Underwood and Judson, is the place to start. (Enter on Como Avenue for easy access.) Be sure to walk around the building and visit the gardens that are planted and tended for MSHS by the gardeners of the St. Anthony Park Garden Club. The gardens include two streams and a water feature and often are planted with native plants, which are usually at peak bloom during the fair. While this is my favorite garden at the fair, there are 32 organizations that Adopt-a-Garden at the fair. This brochure gives a good map and description of the gardens, which are restful places to stop and take a break. I often stop at the Minnesota Water Garden Society garden, which is near the Food Building.
Inside the hort building is the MSHS booth, which includes a retail store and a separate educational area (watch for Big Boy, the tomato). Just down the lane from the educational booth is the U of M Master Gardener's question-and-answer booth, always a crowded spot and a great place to stop with questions about your gardens.  The building also includes winners in the State Fair big vegetable contest, the MSHS Plant Show displays, the apple displays (a healthy stopping point), and the new Dirt Stage, which will feature talks about gardening topics every day. Here's a list of who's speaking.
What are your favorite places at the State Fair?