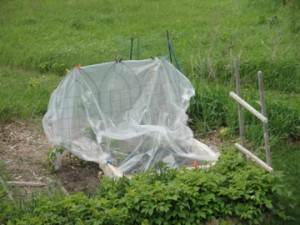 Maybe greenhouse is an overstatement, but the recent cool weather plus my indoor seed-starting area getting over crowded required a spillover space for plants. There are many ways to fashion cold frames and hoop houses, and dozens of smallish greenhouses available for purchase. But I was looking for a quick way to get some of those darn pots out of my basement.
Here's what I came up with: One of my raised beds has a decorative (also useful) trellis at the back of the bed. Before going to the store for the rest of the gear, I weeded this bed thoroughly. Then, I bought three scrap boards at the local big box ($ .49 each) and screwed them together with deck screws in the same way I have built raised beds before.  The box serves two purposes: it provides a little extra protection around the plants from wind and it gave me something to attach the top of the greenhouse to.
For the top of the greenhouse, I bought a  3 mil. paint cloth ($3.99). I had other paint cloths at home, but wanted the thickest grade I could find for strength.  To attach everything together, I found a cheap ($4.99) set of spring-fired clamps. I set the 3-sided box on top of the raised bed, then cut small slits in the plastic to slide over the top of the trellis. I arranged the plastic so it covered most of the back of the trellis and flopped over the three-sided box. Using the clamps — which came in two sizes — I attached the plastic to the frame. The plastic is not completely sealed so air will flow through the set up but the extra protection should also hold in heat. On hot days, I can peel back the plastic and clamp it to the trellis to keep it out of the way.
While the system is not beautiful, it seems to work. When I went out this morning, after a night where temperatures sunk below 40 degrees, the plants looked good. I made one additional modification, though. The plastic was not tight enough and was flopping on some of the plants, so I put a tomato cage at the end of the box opposite the trellis and tightened the plastic slightly in another place. The forecast calls for "breezy and cool" so I will be monitoring the set up to make sure the plastic stays where it belongs. I'm expecting the greenhouse will only be needed for a couple of weeks.