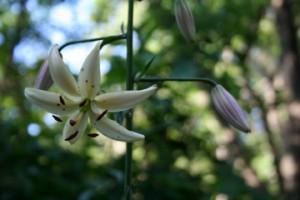 Last June, I had the pleasure of being one of about two dozen people invited to the home of Frans Officer to view the blooming of the martagons. Martagon lilies are a hardy, shade-tolerant lily that is not widely available, but should be. In the newest issue of Northern Gardener, Frans talks about his 25-year fascination with martagons and gives readers tips on how to get started growing and collecting martagons.
Elsewhere in the issue, you will find the results of the 2009 Master Gardener vegetable and flower trials in Minnesota, a profile of a carefully designed Japanese garden in Minneapolis, and horticulturist Debbie Lonnee's picks of the best new annuals for 2010.
It's a great issue, and is available on newsstands now.